Arcadian Peafowl
I had two big adventures worth blogging this week.
Monday, when I got to school, I was apparently running on too little sleep and/or coffee to remember that in the morning fog [both atmospheric and cranial] I had turned my lights on. They must have lasted for a couple of hours; I've left them on for the entire duration of my piano lesson before, and my truck started right up like no problem at all. Alas, this was not the case last Monday.
Cut to the end of the day, and there I was, feeling like a total retard, asking campus police for a jump. After a bit of waiting around, they came with a battery hookup thing on wheels, fired up my old '61 Ford, and off I went.
I wanted to go to the gym on my way home, but I was afraid to turn my truck off for fear that the battery wouldn't be charged that soon. Instead, I drove East on Colorado Boulevard, curious about what lay in the lands to the East of Pasadena, having never explored that area.
Things weren't looking as interesting as I'd hoped they might. There were a couple of nice-looking older buildings to see, but nothing worth looping back around the block to photograph. After about 15 minutes of blandness that hovered between newer, boring suburban looking buildings and older, boring looking buildings, just as the sun was starting to angle low in the sky, the red generator warning light lit up my dashboard.
O.K., architecture tour over. Turn the ship around and head for home,
STAT!
All this driving had taken me further from home than where I'd started at school, and if I had to call AAA there would surely have been that extra mileage charge for the tow. Plus, I really didn't want to deal with more waiting around for more roadside assistance.
Just then, the landscape made an abrupt change. Dingy roadside stucco gave way to tall lush trees. The road started winding along some sort of embankment on the left, with a really lovely neighborhood on the right.
CITY OF ARCADIA
said the sign. The road was two lanes each way, and because of the curves I didn't feel safe making a u-turn there. I made a right into the neighborhood, to find a place to turn around.
At the first intersection I came to, the road was wide and I came about, ready to head for home, when I stopped. There were birds in the road, but not just any birds. Big birds with funny crowns on their heads.
apparently the local teenagers have it in for someone on this street
Now, I live in Highland Park, which is almost like living in Mexico. I say this not having ever lived in Mexico myself, but as I sit here writing this, I hear my nieghbor's radio blairing out that bouncy Mexican music that sounds like polka, and most of the billboards and signs in store windows around here are en espanol, not english. Where am I going with this, you ask? Here's where: I'm used to seeing chickens wandering around, even ducks. There are several yards around here with fowl of various sorts, sometimes strutting in the front yard openly, occasionally only heard from behind a fence. Once I saw beautiful, exotic looking black chickens wandering in the road on a side street near a place I like to go for coffee. I find it charming, and consider it to be one of the best assets of my nieghbors from South of the border, that they have this fondness for their birds.
I had never seen free-range peacocks on a neighborhood street. Generator light or no, I had no choice but to whip out my camera.
I guess these people take their arcadian lifestyle pretty seriously.
I remember watching David Letterman once when he had the high school champion bird callers on the show. One of them was imitating the Peafowl. He asked them to explain what bird that was. They said the female was Pea Hen, the male was Pea Cock, and the baby was Pea Chick. Somehow that fact stuck in my brain. It's a good thing it stuck, because here I was, and I actually used that information. I'm not sure whether these are hens or cocks.
This was my drive home, West back down Colorado Boulevard, into the sunset.
I made it home, and didn't have to call auto club. Now that its the weekend, I'm sure glad to add 'charging the battery on my truck' to my list of chores. I was wondering what I would do with all my spare time this weekend.
- - - - - - - - - - - - - - - - - - - - - - - - - - - - - - - - - - - - - - - - - -
Knitting and Architecture

Wednesday and Thursday, I took my students on a field trip to the
Schindler House
in West Hollywood. Schindler came to Los Angeles from Vienna, by way of Chicago, where he worked for Frank Lloyd Wright. Wright sent him to L.A. to supervise construction of the
Hollyhock House
. Schindler decided to stay in L.A. and set up his own practice. He built his own house in 1922, where he lived and worked until his death in 1953. The genius of the house is hard to convey in pictures or a short blog entry. For further reading, I recommend
Schindler House
by Kathryn Smith.
Since I had 3 hours between classes and didn't want to go all the way home in between, I brought my sock to knit:
That's the sleeping basket on the roof.
It really pained me to have to sit in the bamboo grove behind the house and contemplate Schindler's contribution to architecture while knitting Koigu on #2 bamboo needles.
The sock poses in front of Schindler's studio-room.
And here is the sock as of this morning.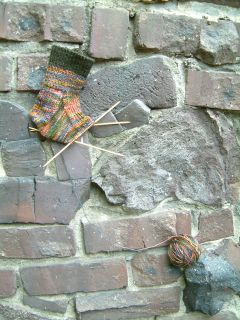 I made it past the instep decrease last night. I continued the 1x1 rib down the instep and stopped it when I finished the decrease. I ended the 1x1 rib with a row of purl stitches to give it a sharper edge, which I think worked. I need to go a little further down the foot to really be able to see it.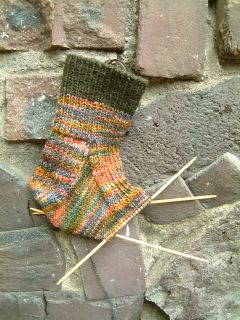 At this point I'm basically hell-bent on finishing this thing.